St Mary's Church has a picturesque building with many interesting and ancient features …
For a pdf of our Guide to Rushden St Mary's, click here: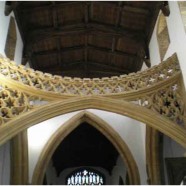 The Strainer Arch
This feature of the building and similar structures at Finedon as well as Canterbury and Wells cathedrals are the only examples of this form of architecture known in England.
It is believed that the same architect was responsible for the earlier arch at Finedon where it was a support for the walls of the nave which have a tendency lean inwards. He probably put the arch in Rushden St Mary's to prevent this happening as the relatively slender pillars of the nave take quite a strain from the raised roof.
A General View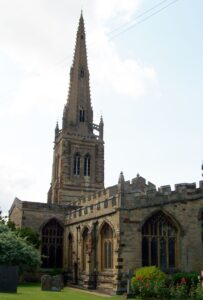 Approaching St Mary's Church from many directions one can see the tower and spire, 172 feet high, erected at the end of the 14th century.  Part of the tower dates from a century earlier, but it was enlarged and strengthened to carry the spire while John Gaunt held Higham Castle.
The Pulpit
The pulpit is constructed of oak and dates from the time of Wycliffe. Only 35 of these Fourteenth Century pulpits are left in England.
Chancel East Window
This is a large Perpendicular window of 5 lights with two rows of smaller lights above, ten to a row, containing incomplete or unidentifiable figures – some with crowns, sceptres or orbs (kings?). The uppermost quatrefoil shows the five wounds of Jesus. The main lower lights are of 19th century work and the allegorical figures are fairly obvious. There runs through the window a 'vine' – hence its description as a 'Jesse' window