UPDATE 1st October 2020 on THE CHILDREN'S SOCIETY at ST MARY's:  Normally next weekend would be our annual Box Opening, so this seems a good moment to give an update.  Due to Covid-19 many charities are suffering, as we are.  Alas there will be no events this year – no Box Opening, no Christingle service. We have lots of kind supporters at St Mary's and we will not be able to collect and empty your boxes this year – but we will be happy to take donations from anyone, if you feel you are able to!  Please write any cheques payable to "The Children's Society" and either post them the our treasurer (Mrs C Calder, 13 Alpine Road, Rushden, NN10 9RJ) or leave them for me at Church (11.15 am service). Thank you!        Anne Riley
The Children's Society
The Church of England Central Home for Waifs and Strays was founded in 1881 by Edward Rudolf, a Sunday school teacher and the charity has now evolved into The Children's Society, a leading children's charity committed to making childhood better for all children in the UK. Children in trouble with the law, runaways at risk on the street, disabled children, refugees and many more are helped by the Society.
The local committee for the Society is linked with St. Mary's Church and attempts are made throughout the year to raise funds through various functions, for instance a coffee morning, table top sale, quiz night and cream tea etc.
Every year at Christmas we celebrate Christingle, a service for children who are reminded of the message of Christmas with an orange and candle. The orange represents the world, a red ribbon around the orange denotes the blood of Christ, the candle, the light of Christ and four sticks decorated with sweets and dried fruit also inserted into the orange are the four corners of the world and the bounty of harvest given to us. Everyone sings Away in a Manger by Candlelight, a very moving service, to which everyone is welcome.
__________________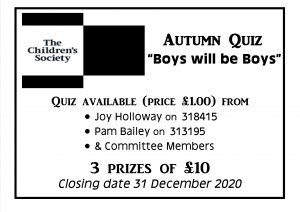 Committee members and contacts for the sale of tickets:
Anne Riley – Chairman tel: (local code 01933) 316380
Mary Hadley – advertising tel: 315383
Cathy Calder – treasurer
Anna Allen tel:                   tel:358289
Liz Cromwell
Teressa Plumley
Kathy MacKenzie            tel: 418399
Christine MacKenzie      tel: 418399
________________________________________________________________
 Future Events
A Quiz evening and Ploughman's Supper
Saturday, 22 February  7.15pm for a 7.30pm start.
Tickets £7.50 from 01933 315383 or 418399
Come and enjoy a fun evening at St Mary's Church Hall
Please bring your own drinks but tea/coffee available